PHOTOS: ATTU, WWII - PAGE 3
"Miscellaneous Photos From Various Sources"



Photo contributions from George & Nadine Smith, George Villasenor, and from eBay purchases. Click on each photo
thumbnail to see a larger rendition. If anyone can identify the photographer for any individual photos, or can
identify any of the unidentified folks in these pictures, please eMail the info to me! Thanks! Click on the Grid Map
to view it as a larger image. As photos are added to this page, I'll attempt to add location coordinates that
reference this map.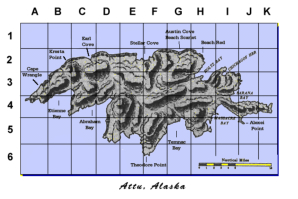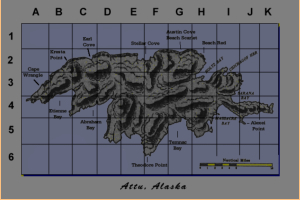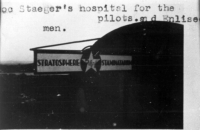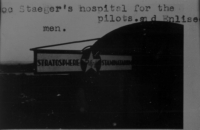 1. A picture of Doc Staeger's hospital for the pilots, and, apparently as an
afterthought, the enlisted men as well! This picture was taken either on Shemya
or Attu. For a picture of some of the nurses on Shemya, see the "History" link
located on the Shemya homepage. Contributed by George Smith from b&w slide
found on Shemya in 1975.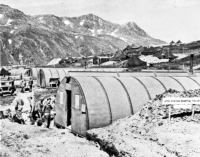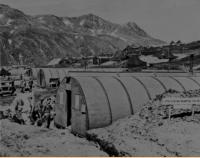 2. 9/26/43-New York Bureau: On Bleak Attu. "Attu-here is one of the first photos
to show in any detail operations of U.S. Troops on Attu since we drove the Japs
out of that island last may. In the shadow of bleak mountains, soldeirs are
working on the Attu Station Hospital Project, made up of pre-fabricated huts."
[Official US Army Engineers Photo From ACME, Procured by Nadine Smith from
eBay sources]. Click HERE for enlarged view.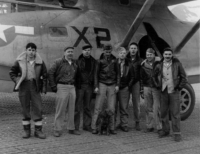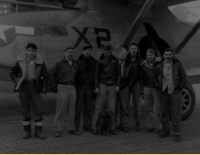 3. George Villasenor enlisted with the Navy at the age of 16 and was stationed
on 1945 Attu as a Naval Aerial Photographer at the age of 17 (or 18). George is
shown on the left (with the tall boots) along with a PBY crew he flew with on
photo missions. (George Villassenor)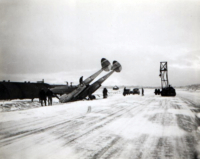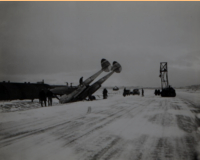 4. Shemya's P-38 "Little Butch" ventured over to Attu during the winter of 1945.
During it's visit it skidded off the runway and landed in a ditch. George
Villasenor, a Naval Aerial Photographer on Attu at the time, was sent to
photograph the incident. Check the Shemya WWII pages for additional photos of
"Little Butch." (George Villasenor)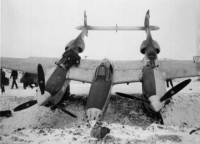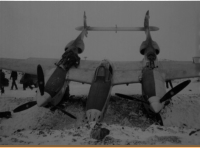 5. A front view of the "Little Butch" crash on Attu, Winter of 1945. (George
Villasenor)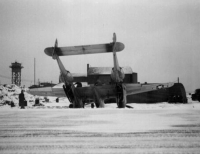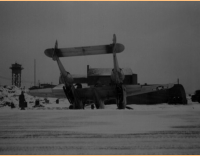 6. A rear view of the "Little Butch" crash on Attu, Winter of 1945. (George
Villasenor)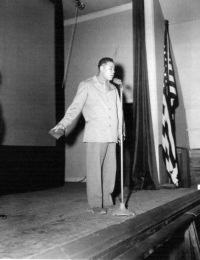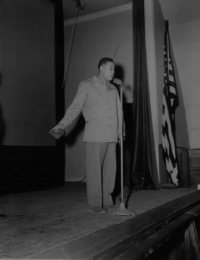 7. Joe Louis, famous boxer, talks to the troops on Attu in 1945. (George
Villasenor)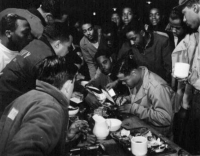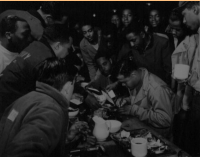 8. Joe Louis signs autographs for the troops on Attu, 1945. (George Villasenor)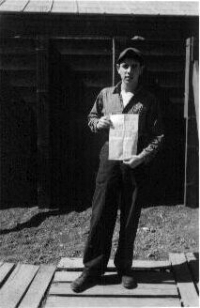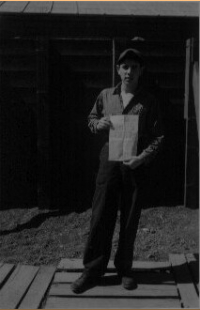 9. George Villasenor holds copy of Attu Morning Sun. The 14 August 1945
headlines shout "Japs Quit." (George Villasenor)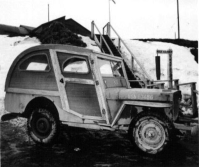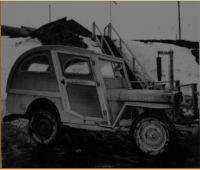 10. A vehicle in the Aleutians is a luxury. Even more so if it runs. The vehicles
sent to the Aleutians were mostly rejects from other theaters...at least in 1975.
This photo was taken around 1945, and shows a typical enclosed jeep that was
very Aleutian in design. This one was George Villasenor's jeep he used as the war
drew down. (George Villasenor)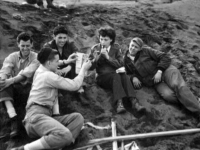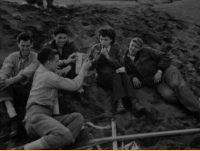 11. This is a photo of a Red Cross Representative on the Island of Attu in 1945.
The Red Cross provided services such as giving donuts, cigarettes, sports
equipment, and morale boosters. Here they set up refreshments in Holtz Bay
and were visiting with a large group of servicemen. Left to Right: Robert C.
Johnson, George Villasenor, Red Cross Rep (name unknown). In front: Joe Klak.
Photographers always get a front seat it seams! (George Villasenor)
This is a link to a PDF document that shows the Attu Morning Sun, dated August 10, 1945. This document shows the
surrender of Japan as discovered by the troops on Attu. This document has been converted to an Adobe Acrobat
Reader format, and is about 28kB. [Joe Broadbent, provided by his son, Allen]