Anchorage & Fairbanks, Alaska:
Around Town
These pictures are of various scenes captured by those who lived
in, traveled to, or were otherwise stationed in towns such as
Anchorage or Fairbanks, AK during the war years. Our thanks to
those who have contributed to these pages! Hopefully some of
our visitors will share similar photos with us!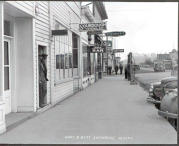 #1. Bars along an Anchorage
street, serving a little
"antifreeze" to the folks in town.
(Contributed by Bill Harris, from
his dad's collection)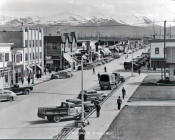 #2. Anchorage's version of
Broadway. The only thing that is
missing are the millions of
lights...and oh yes, the
temperature's a little off as well.
(Contributed by Bill Harris)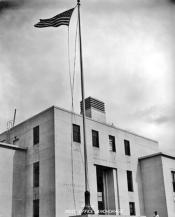 #3. The Anchorage post office.
You might find the dog sled
delivery vehicles behind the
building. (Contributed by Bill
Harris)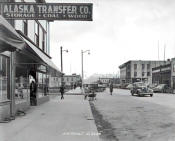 #4. This picture was simply
titled, Street 1, and was taken in
Anchorage. (Contributed by Bill
Harris)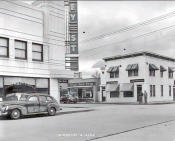 #5. This picture was taken in
Fairbanks. Notice the "Kaye's
Furs" store in the background?
(Contributed by Bill Harris)
Current Update: 11 Dec 2021 11:18
Last Updated: 04 Jan 2013 11:53
Originally published: 08 May 2001