Rick Crandall's Breakfast Show
Wellshire Inn, Denver, CO
29 December 2000
These are pictures taken during the KEZW interview. Click on any
image to bring up a larger presentation. Click on your browser's
"Back" button to return to this page when finished viewing the
larger image. The audio and pictures on this page courtesy of
Bill Harris, KOOL 105 FM, Denver.
To listen to a segment of the audio recording during this
interview, please click on the PLAY button on the above widget.
Included in this interview were WWII Aleutian Veterans Bill Greene
and Ray Amrein, along with post-WWII veteran George Smith.
Current update: 05 Feb 2022
Originally published: 29 Dec 2000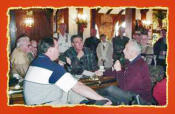 #1. The 0900 hrs segment of
Rick's show began with an
interview with Bill Green (on the
right, Rick Crandall on the left.
Bill was with the 68th and the
138th Construction Battalions
(CBs) while on Attu. Bill enlisted
at the age of 17, and, when
required to have his mother's
consent to join the service at
such a young age...told the
recruiter a story about his
mother being dead...for which
she's never forgiven him!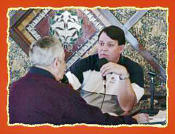 #2. Rick listens intently and
asks questions as Bill Green
shares a few of his stories.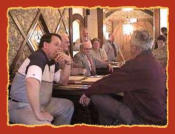 #3. Rick listens intently and asks
questions as Bill Green tells a
few of his stories.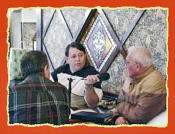 #4. Rick interviewing Ray
Amrein. Ray was on Attu from 10
May 1943 to 10 May 1944. He
was with the 78th CAAA, 2nd
Bat. Ray tells an interesting
story about believing there was
three downed American aircraft
in the mountains of Attu when
others thought there was only
two during the Battle. [The
battle for Attu began on 11 May
1943]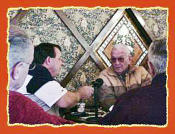 #5. Rick getting more
information from Ray. Ray and a
friend hiked up the mountain
and found the plane, and the
deceased pilot. Ray wonders if
the plane and pilot were ever
recovered.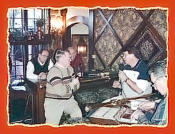 #6. George Smith explaining to
Rick about the post-WWII vet's
role in the Aleutians, and
expressing the concern that we
must capture the stories of the
men and women who served in
the Aleutians...both during and
after WW-II, so that this part of
our history isn't lost to time and
poor bookkeeping.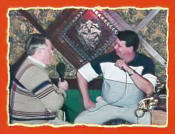 #7. George Smith is probably
shamelessly putting in a plug for
our Aleutian's Web site, and
advertising the NBC
Dateline/Shane Bishop
production of "The Winds of
War" that showed that evening.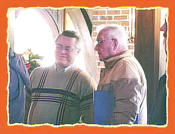 #8. George Smith and Ray
Amrein chew the fat after the
interviews. Ray has a very
distinctive Baltimore accent that
he hasn't lost to this very day!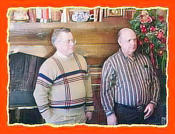 #9. George Smith and George
Blood yak it up after the
interviews. George Blood
replaced George Smith in the
newly formed PMEL lab on the
island of Shemya, Aleutian
Islands, AK in April 1976. Both
were instructors at the
PMEL/Metrology school located
at Lowry AFB, CO at the time of
their assignments. Both of them
had their smiles frozen off while
at Shemya.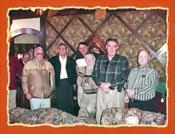 #10. From the left, Ray Amrein
(brown jacket, Attu Vet); Jim
Lillard (of HLS Systems, a co-
sponsor of this web site); Rick
Crandall (host, KEZW); George
Smith (also of HLS Systems,
post-WWII Shemya vet); BG Sal
Villano, USAF Ret. and former
Commander of Colorado's
Buckley Air National Guard
Base; and George Blood (post-
WWII Shemya vet).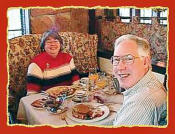 #11. Garneth & Bill Harris. Bill
provided the copy of the
interview audio as well as the
majority of these photos!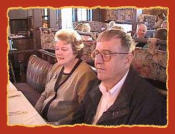 #12. Jim and Carol Lillard of
HLS Systems, Inc. Hardware &
Software Support.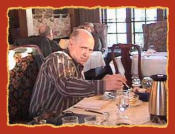 #13. George Blood chowing
down some breakfast.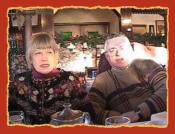 #14. Nadine & George Smith,
stuffed with an abundance of
breakfast!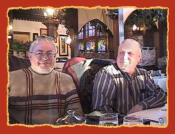 #15. George Smith & George
Blood yukking it up after
breakfast.
Current update: 26 Mar 2022
Originally published: 29 Dec 2000