Last Updated: 11/21/2016 07:41
ATTU, POST-WWII PHOTOS, PAGE 3


Click on the compass icon below to bring up the Attu, AK. coordinates map in a separate window. This map will help to locate
where on the Island the photos are taken. We'll add the coordinates to the descriptions for each photo as they are supplied.
Click on the pin/map for an enlarged U.S.G.S. Survey Map of Attu in a separate window.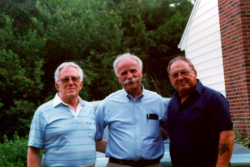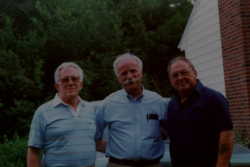 #1. Three folks who shared the "Attu" experience get
together for the first time since 1946. Rene "Frenchy"
Thibault on the left, Edwin Robnett in the middle, and Charles
Pizzotti on the right. (Rene Thibault)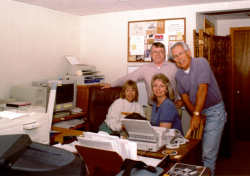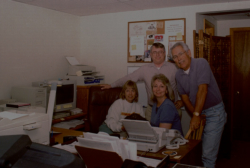 #2. Lakewood, CO, May 1999: It was Nadine and George
Smith's pleasure to host George Villasenor (right, standing),
WWII Attu Vet and photographer extraordinaire in May of
1999 while visiting Lakewood, CO during his road trips
around the country. His wife and chief "scanner," Johnnie, is
seated just to his right. George and Johnnie have contributed
numerous photos taken during George V.'s time spent in the
Aleutians while being one of the youngest volunteers to ever
join the Navy during WWII. That's Nadine, my chief scanner
and wife extraordinaire sitting to Johnnie's right, and George
Smith (me) standing to George V.'s right. (George L. Smith)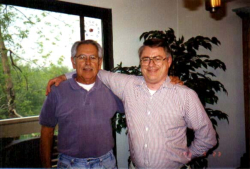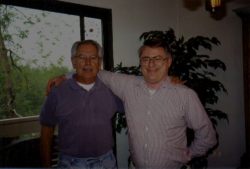 #3. Lakewood, CO, May 1999: George Villasenor on the left,
and me (George L. Smith) on the right. It was an awesome
feeling being in the presence of one who'd voluntarily served
during WWII in the Aleutians, by one who'd served in the
Aleutians during the cold war (1975-76). (George L. Smith)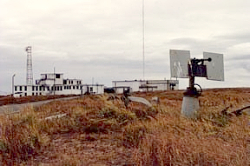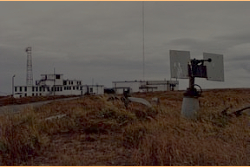 #4. Attu, 1999: Pictures #4 through #8 were supplied by Keith
Alholm, a PA from Kodiak who was escorting a German TV
crew to Attu. They visited the Japanese memorial site on Attu
located about four miles from the LORAN station. This image
is of the LORAN station on Attu. (PA2 Keith Alholm)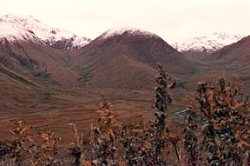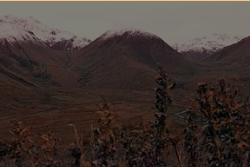 #5. Attu, 1999: On the way to Attu's Japanese memorial. (PA2
Keith Alholm.)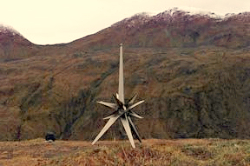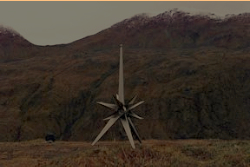 #6. Attu, 1999: A World War II memorial sits on top of a
mountain near Engineer Hill, about four miles from the Coast
Guard's LORAN Station Attu. The titanium memorial was
placed by the Japanese government in 1987 to honor
soldiers that died in the North Pacific during WWII. (PA2
Keith Alholm)
#7. Attu 1999: The text accompanying the Japanese Attu
memorial (picture #6):
IN MEMORY OF ALL THOSE WHO SACRIFICED THEIR
LIVES IN THE ISLANDS AND SEAS OF THE NORTH PACIFIC
DURING WORLD WAR II AND IN DEDICATION TO WORLD
PEACE
CONSTRUCTED BY THE GOVERNMENT OF JAPAN IN
COOPERATION WITH THE GOVERNMENT OF THE UNITED
STATES OF AMERICA ON 1 JULY 1987
(PA2 Keith Alholm.)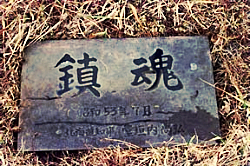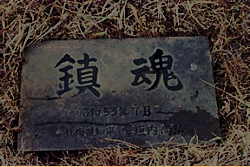 #8. Attu 1999: John Szalay was kind enough to provide this
translation of the inscription on this stone:
A Soul
7th month of the 53 year of the Emperor ( July 1978)
(From) Shiretoko Hokkaido
The Spirit of Naohiro Kakiuchi
(PA2 Keith Alholm.)