ATTU, PRE-1942
"The Native Americans of Attu"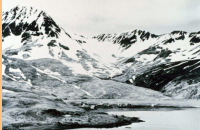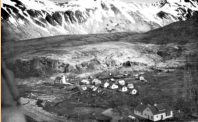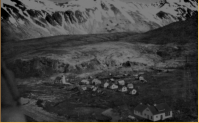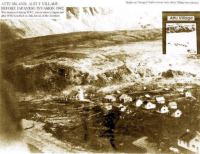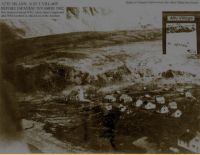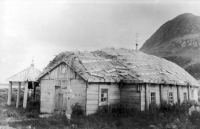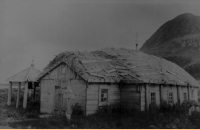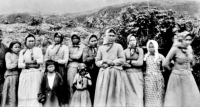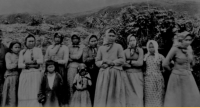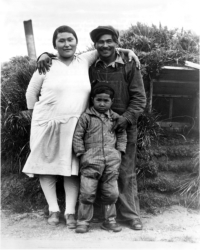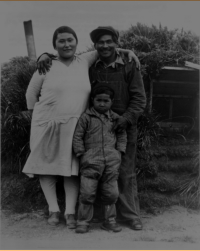 On the 7th of June, 1942, around 03:00hrs the Japanese 301st Independent Infantry Battalion landed on Attu via
Holtz Bay and slowly made their way to the Aleut village located at Chichagof Harbor. At this time, Attu's
population consisted of several Blue Fox, forty-five native Aleuts, and two Americans: Foster Jones, a radio
technician operating a weather reporting station on Attu, and his wife Etta, a sixty-two year old schoolteacher
working for the Bureau of Indian Affairs. Foster and Etta had arrived on Attu only eight months earlier in October
of 1941. They (with the exception of the fox) all lived in a little village of frame houses around Chichagof Harbor,
maintaining a precarious existence by fishing, trapping the foxes, and weaving baskets.
Missionaries, as well as government patrol boats and small fishing craft, provided the inhabitants with their only
direct link with the outside world...except for a two-way radio operated by Mr. Jones. Mr. Jones was killed by the
Japanese shortly after they landed on Attu, his body subsequently buried by the island church. For a short time,
the Japanese occupational forces maintained the services of the Aleut fishermen to supply them with food. As the
Japanese forces became more entrenched on Attu, Mrs. Jones and the entire Aleut population of the little village of
Chichagof was transported around the 21st of June, 1942 to Yokohama, Japan in the hold of a Japanese freighter for
internment.
After WWII, the Aleuts were resettled on Atka Island, in the Aleutians, with Mrs. Jones returning home to the
United States, boarding an airplane near Tokyo on 1 September 1945. She was presented a check in the amount of
$7,371.00 covering back pay as Attu's B. I. A. teacher. For a full accounting of this incident, be sure to read Mary
Breu's book "Last Letters from Attu."
Original Publish Date: 04/07/2001
1. Women and children of Attu, Aleutian Islands, AK. Circa 1890. Click HERE for a
larger view. [George & Nadine Smith]
2. Attu village's Russian Orthodox Church, Circa 1890-1900. Planking layed over the
thatched roof keeps the roofing material (grass, etc.) in place, especially during
high winds. Click HERE for larger view. [George & Nadine Smith]
3. Attu's Aleut village located near Chichagof Harbor. In 1934 there were only 38
natives living on Attu. Official U. S. Navy Photo. Click HERE for enlarged version.
[George & Nadine Smith]
4. L-R "Mrs. Mike," "Little Mike," and "Big Mike" Hodikoff. In 1934 Big Mike was chief
of the native Aleut Tribe on Attu. They are posing in front of their Aleut hut called a
Barabara. Trapping Blue Fox, fishing, and making baskets was the only means they
had of making a living. This photo was taken in 1934 by the Bureau of Aeronautics
of the U. S. Navy during an aerial survey of the Aleutian Islands. (Official U. S. Navy
Photograph. Was made available for distribution on Thursday, August 6, 1942 at
3:00 P.M.) At the time this photo was released in 1942, it was assumed that Big Mike
and his family were prisoners of the Japanese. It was later learned that Mike
Hodikoff died in 1945, in Japan, while still imprisoned. Click HERE for a larger photo.
Click HERE to view the photo's reverse side. [George & Nadine Smith]
5. Attu village at Chichagof Harbor, June 1937. National Marine Fisheries Service,
NOAA Photo Library. Click HERE for high resolution image. [George & Nadine Smith]
6. Attu Island, Aleut village before Japanese invasion in 1942. Was destroyed during
WWII. Aleuts were taken to Japan by the invading Japanese. At war's end, surviving
Attuans were resettled on Atka Island in the Aleutians. [Rene Thibault]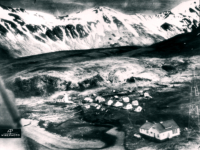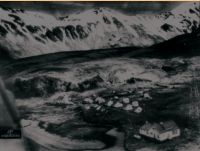 7. This photo was taken in 1934 by the Bureau of Aeronautics of the U. S. Navy [Click
HERE for larger view]. Attu village on the island of Attu, westernmost of hte
Aleutians which was occupied by the Japanese in June, 1942, has been the
Nipponese supply and reinforcement base for their foothold on U. S. soil, both
there and on Kiska Island. Photo was made available to the press on May 14, 1943
as an AP Wire Photo. On this day the Japanese reported U. S. landing parties were
engaged in heavy fighting on Attu. Click HERE to view reverse side. [George &
Nadine Smith]

Ray Hudson found a book that came out in 2014 from the "Peter the Great Museum (Kunstkamera) in St.
Petersburg, Russia:"
Kunstkamera Aleuty: Catalog Kollekcii Kunstkamery
[The Aleutians: Kunstkamera's Collections Catalogue] Peter
the Great Museum of Anthropology and Ethnography (Kunstkamera), St.Petersburg, 2014. The book focuses on
their Aleut collections. At present, it's only in Russian. The books on Tlingit and Kodiak collections, I believe, have
been translated. I understand that the Smithsonian's Arctic Studies Center at the Anchorage Museum at
Rasmussen Center in Anchorage may be trying to get it published in English, but I haven't heard anything recently
about this project.
While this book is difficult to find these days, one can view the museum's objects online at the Museum's website.
Here's the link:
http://www.kunstkamera.ru/kunst-catalogue/index.seam?page=1&c=ALEUT&cid=1437
By clicking on the major topic of interest as presented on the menu at the left-side of the page, then clicking on an
image item under that heading, a new page appears related to just that object. Articles are often referenced to a
location known as "Russian America." Click HERE for a bit of that location's history. (Ray Hudson)

Updated: 12/15/2016 06:50